Prefer to listen? Click below.
Some people think luxury is the opposite of poverty. It is not. It is the opposite of vulgarity.

A few weeks ago, I hit State Street in Santa Barbara with some friends on a mission: to find something beautiful to buy that delighted my heart.  I tried on shoes, sniffed perfumes, and then I saw them:  Tom Ford sunglasses. I remember buying my first pair of Tom Ford sunglasses years ago. I nearly had a panic attack when I handed over the cash to make them mine.
How could I?  I mean, c'mon….I needed to fund my IRA, not to mention the starving children in the world, for chrissakes.
All I could hear in the back of my mind was, "Who do you think you are?"
I bought the darlings anyway, because I was tired of being who everyone else told me I should be.  That day, I took a stand for the woman I choose to be.
I still have them, meticulously kept in its black velvet case.
So, I didn't need another pair of sunglasses.  But, did I want them? Absolutely!  So, I bought them.
Excitingly, I posted a picture of my purchase and was retweeted by Monsieur Tom Ford himself (hear the angels sing) with his stunning black glasses on my face.
Within hours, I received this email:
Tonya,
I just saw the picture of you wearing $400 sunglasses, and I just don't get it.  This kind of purchase seems so wasteful and goes against your philosophy of simplicity.
Not every woman can purchase expensive glasses to feel beautiful and chic.  
Please keep it real.
First of all, for those of you who have said you can't believe that I receive anything but love notes and roses, here's proof.  When you stand for something, not everyone is going to like you and that's okay (but I'll save that topic for another blog post).
Second, I want to address this email.
There was a time in my life when I couldn't fathom $400 for rent, so luxury sunglasses were definitely out of the question.
That was my real.
Yet, deep down, I craved a pair of Oliver Goldsmith shades ever since seeing Audrey Hepburn wear them in Breakfast at Tiffany's. That longing (along with many others) asked that I see myself as worthy enough to have what I desire.
More than the purchase, it's the woman you become in obtaining your heart's desire that's inspiring. (tweet it)  
But, let's talk about sunglasses…
Many women will tell me that they settle for glasses from Target because they will lose or destroy them.  My thinking says:  I'd rather have one pair of stunning glasses that I deeply care for than 20 pairs of cheap ones that I just lose, scratch and discard mindlessly.  Now, that's wasteful!
So, it begs the question:  what is simplicity? Is it living by the river with few possessions or is it loving what you love and truly appreciating and caring for what you have?
I can't answer that for you.  It's something every woman must define for herself, but I will tell you that there's room in a simple life for luxurious things.
Finally, here's the truth:  you don't need a pair of $400 sunglasses (or a trip to Paris, a beautiful bottle of Veuve Cliquot or a pair of Jimmy Choos).  But, it's the things in life that you don't need but deeply desire that makes life worth living.
I have seen what happens to a woman when she buys something beautiful and luxurious for herself — she walks through her world as a Modern Day Icon.  And, trust me, the world responds to that energy — more opportunities, confidence and joie de vivre. 
In fact, that day, two of my friends walked out with their first pair of Tom Ford's too!  And, check out how stunning they look.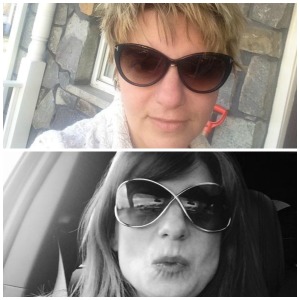 At the School of Self-image, I encourage every woman to unapologetically love what she loves.  That is part of her iconic appeal.  And, I will never apologize for anything I buy, and I hope you don't either!
That's how I'm keeping it real!
In Love,
Tonya
You're Invited To Live An Extraordinary Life!