Prefer to listen? Click below.
He who would travel happily must travel light.

Travel is one of my favorite things to do. There's something about stepping off a plane, taking a deep breath of pollution o  fresh air (depending on where you are) in anticipation of the adventure that awaits. Over the past decade, I've spent a lot of time in trains, planes and automobiles in pursuit of adventure and pleasure mixed with business. And, I've learned a lot!
When I first started traveling, I was a complete mess — always packed too much, always leaving something behind, always slowing down the TSA line. I also traveled like a tourist, running from one site to the next arriving home more exhausted than renewed.
The way I traveled was a metaphor for the way I lived — never prepared, disorganized, and stressed. 
However, I am a good student. And, I'm always studying people I admire. So, I took note of the people who had their act together — the CEOs who are flying three times a week, the elegant woman who gracefully eased through security, the woman who created her own first-class environment in coach.
Travel, like anything, is a process of mastery – knowing what to pack, what to leave behind, and how to navigate the complexities of an adventure. Over the years, I've learned some simple rules that allow me to travel with elegance, style, and joie de vivre!
Rule #1: Invest in Good Luggage
I am an advocate for quality. And, luggage is no exception.
I used to travel with cheap luggage because I didn't see the value in investing in luxurious baggage. Quite honestly, I'd rather buy a handbag!
However, when I saw a very chic woman in Paris rolling this piece of luggage through Charles de Gaulle, I had second thoughts. The elegance in which she sauntered juxtaposed with me wrestling with my heavy, old tattered piece was quite noticeable.
I finally bit the bullet and bought one. After one trip, I couldn't believe I had waited so long.
It makes traveling SO much easier (and you know I'm all about ease) – it's super light (so you have more weight to spare for things you actually pack) and it rolls through airports and down streets almost on its own (so you're not looking like a goofball trying to muscle your way through travel).
Trust me on this one! You'll thank me later.
Rule #2: The 3 Day Packing Rule
My old way of packing was to wake up the morning of a trip in a panic and start throwing things into my luggage. There was no thought in the process.
Since those days, I've learned a lot about setting your life up for maximum enjoyment, and if you're procrastinating on packing, I can guarantee you that it's not a pleasant ordeal. I know.
So, now I commit to always packing three days before my trip, unless I get a call that a private jet is waiting to whisk me off to Bali. In that case, I'll grab some necessities and GO!
I even have a packing list that guarantees that I don't miss a thing.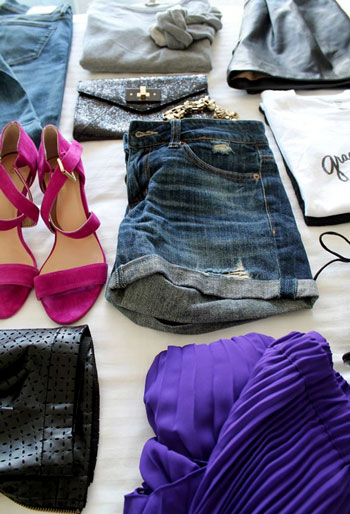 Rule #3: Downsize Your Must-Haves & Organize
All airlines have a weight limit. So, it's a shame to go over and accrue a $100 fee because you're lugging huge bottles of liquids — shampoo, conditioner, body lotion, and cleansers.
Clear travel containers are a must. Here are some great ones. For products you can't put into bottles, get the mini-versions (toothpaste, hairsprays, etc.). Use that extra space for a great pair of shoes!
My travel also changed when I invested in a toiletry organizer that I can just open and hang upon arrival.
Henri Bendel is my go-to company for travel accessories.
Rule #4: Pack on the Lighter Side
Unless you want to look like a Real Housewife from Beverly Hills in the airport (and you have a travel butler to carry all your bags) or pay a whopping fee for overweight luggage, you will be better off traveling with less than more.
This has taken me years to learn, but once you discover what's truly necessary and rid your baggage of everything else, travel will become so much easier.
I pack great basics in a neutral palette (blacks, greys, and whites) and use accessories for pops of color. I usually have 3 pairs of shoes: flats and heels year-round and boots in the winter and sandals for the summer.
Rule #5: Dress like a True Jetsetter
When I arrived back at JFK after a couple of weeks of flying around Europe, the way people dressed hurt my eyes.
Nothing fascinates me more than to see people look as if they just rolled out of bed and went straight to the airport in their pajamas (or even worse, a onesie).
I'm all for comfort when traveling, but you can also travel in style. Opt for loose-fitting clothing (not sweats) with breathable fabrics and comfy flats or boots (think easy on and off for security line purposes).
Invest in travel socks. Walking through security barefooted is not chic. My favorite travel outfit is my pair of boyfriend jeans (loose and comfy), loose top, big sweater, scarf and comfy flats.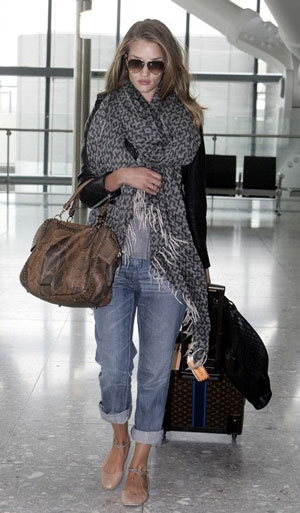 Rule #6: Upgrade as Much as Possible
If I've learned anything about travel, it's this: there is always a chance to upgrade your experience if you're creative!
If you have a layover more than a couple of hours, it's worth the day pass investment of $30-40 to enjoy a club lounge that affords you quiet, space and complimentary drinks and snacks (although, don't go overboard on the snacks just because they're free).
When you check into your hotel, kindly ask if you can have an upgrade. My experience is that you'll get it 50% of the time.
Ask for the table you want, a front row, a first-class seat. The worst thing that can happen is that they say no.
Rule #7: Pack a Small Cooler
When traveling with a friend, she pulled out a small cooler filled with delicious snacks (hummus, veggies, nuts, cheeses). We had a feast in coach. Plus, we avoided the airline food that usually results in bloating, breakouts and an upset tummy.
I have since adopted pack-my-own-cooler idea and make sure I am always prepared to eat like a Queen while traveling. It's also great because you never know what perishable treats you want to bring back with you.
I love this one by Ju-Ju-Be.
Rule #8: Prepare to Arrive Well-Rested (or at least look like it)
Flying, especially for long distances can wreak havoc on your body and skin.
So, first, it's important to drink plenty of water while in-flight. Hydrate, hydrate, hydrate. And, go easy on the wine.
I also love to spritz my face with Evian Spray several times while in the air.
Packing a small (flight-approved) makeup bag filled with my essentials – lip moisturizer, facial towelettes, foundation, mascara and a toothbrush – allows me an opportunity to look fresh when I get off the plane.
I also boost my immune system with Emergen-C during flight, because, Lord knows what kinds of germs are floating around that big metal tube.
Rule #9: Create Your Own In-Flight Entertainment
Before every trip, I consider the amount of time I'll need to entertain myself. I'm not good at being bored. I always bring my iPad where I store most of my books (and it cuts down on space), I download a couple of movies and have my turbulence playlist ready to go on my iPhone (Yes, I have music just for turbulence as I am such a baby when it comes to being rocked around in the sky. I have been known to grab the stranger beside me and say my last prayers.)
Rule #10: Accessorize Well
When flying, I always wear pack a big scarf that can double as a blanket and a pair of sunglasses to wear while taking my in-flight siesta.
A great bag is always a must. My Louis Vuitton tote is my go-to travel bag.
And, ladies, I love you, so please leave your fanny packs at home.
Rule #11: Hire a Driver
This is one of those little luxuries that I find well worth the money. After flying for more than 3 hours, I don't like standing in taxi lines. I'm the let's get this adventure started kind of gal.
It's nice to have a friendly driver awaiting your arrival when you've gathered your luggage and are ready to start trip. Uber is a great choice too! In fact, I am in love with this company. Download the app and have a car and driver to you within minutes in major cities in the world.
Rule #12: Check your Attitude
Elegant travel is more about attitude than anything. If you are constantly worried, feeling insecure, or angry, none of the previous suggestions will help. You will sabotage the best of adventures.
Confidence, a sense of adventure, and joie de vivre is key to styling your travel.
And, I personally believe that the absolute worst thing you can do is pack your itinerary from sunrise to bedtime with activities.
Leave some room for spontaneity, adventure, and mystery.
Learn to go with the flow, get lost on occasion so that you can discover something unexpected, don't get rattled when everything doesn't turn out as you'd wished.
Travel is like life — you can resist or you can relax.
Always choose to relax!
Well, I've been taking my own advice. I arrived on Sunday in New York City for The French Kiss Life Tour and I'm off to Portland and LA next.
I am crazy excited to spend time with this incredible community. Our event in Denver over a week ago was off the charts incredible.
Will I see you? Come meet me for cocktails or join me for dinner.
And, please share: what are some of your savvy travel tricks?
Cheers to Travel & Adventure,

Extraordinary Women Do Extraordinary Things ...
Did you grab the FKL Manifesto?